Due to the big success of the Winter 2011-12 thread, I'm starting a Spring 2012 thread. As the discussion for March continued in the winter thread, I'll post my April and May thoughts here.
April 2012 Forecast:
For April, I expect that the eastern half to eastern two-thirds of North America will likely see warmer than normal readings. However, there could be more variability than had been seen during much of the winter and during March. At the same time, the potential for at least one outbreak of impressive heat might exist given some of the analog cases that came up.
Key Assumptions:
• The ongoing La Niña will slowly give way to neutral ENSO conditions during April
• The AO will likely be predominantly positive
• The PNA will likely be predominantly positive (but generally < +1)
The top analog was 2009. The second closest analog was 1976. As had been the case with March, 1976 figured prominently in the outlook, so I also showed the reference case for 1976. The 1976 reference case has a lot of similarities to the CFSv2 forecast. Both 1976 and 2009 featured a significant outbreak of heat during the second half of the month (1976 just after mid-April and 2009 in late April). The first half of each of those two cases did feature some colder than normal readings, so some cold shots would appear plausible in eastern North America, especially during the first 1-2 weeks of April.
The charts on which my April idea is based are:
Top Left: Composite temperature anomalies based on ENSO/Teleconnection Analogs.
Top Right: 1976 Reference Case
Bottom Left: Observed Decadal Temperature Change for April
Bottom Right: CFSv2 Forecast for April (from March 20)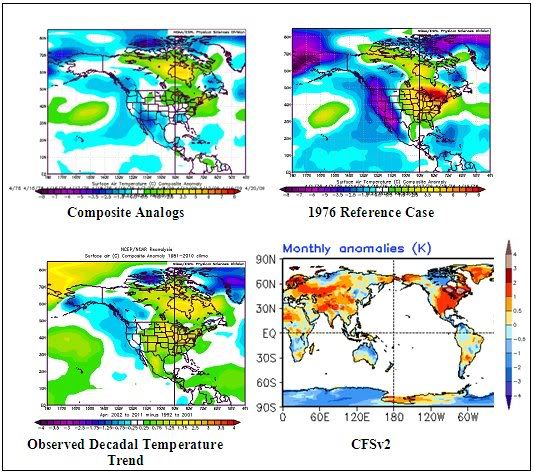 Based on the combination of the composite teleconnection analogs, the 1976 reference case, and the observed decadal temperature changes, my thoughts for April are as follows:
The eastern half to two-thirds of the U.S. and most of eastern Canada will likely be warmer than normal. Eastern Quebec and Labrador could see cooler readings. The warmest anomalies might be present in an area that includes the Great Lakes, Northeastern U.S. southern Ontario, and southern Quebec. The Western quarter of the U.S. and Canada will likely be cooler than normal. The northern half of Alaska could be warmer than normal with the observed decadal trends and CFSv2 being given greatest weight for that area, while the rest of the state is normal to cooler than normal.