With summer approaching, I'm starting a Summer 2012 thread. My summer thoughts will be posted toward the end of the week. This evening, I'll post my thoughts for the first week in June.
June 1-7, 2012 Thoughts:
The pattern that appears likely to kick off the first week of Summer 2012 is likely to produce widespread warmth across North America. Although that pattern has typically resulted in cool anomalies across much of Canada and part of the U.S., the lack of cool anomalies in the Arctic region will result in those areas also seeing mainly warm anomalies.
The charts below are as follows:
Left: The composite temperature anomalies for ENSO Region 3.4 anomalies of -0.2°C to +0.5°C, a PNA of -1.50 to 0.00, and an AO of +0.25 to +1.50 for North America.
Right: NAEFS for the May 30-June 5, 2012 timeframe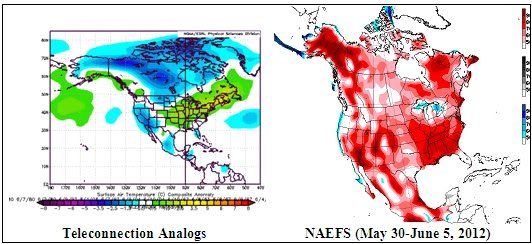 Overall, I expect most of North America to see warmer than normal conditions for the first week of June. Portions of California to British Columbia could see cool anomalies. Whether or not the warmth of the first week in June may indicate a warm summer remains to be seen. However, the picture is decidedly mixed with a few of the most recent analogs having turned toward the warmer side, especially for the first half of summer. The most recent analogs also continue to suggest a quieter than normal Atlantic hurricane season despite the early formation of Alberto.
Finally, it should be noted that verifications for a number of the May forecasts will be forthcoming later this week, as well.