Snowfall Forecast: Blizzard of 2015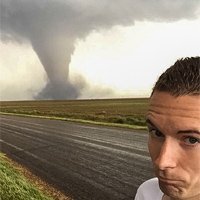 Entry posted by Quincy ·
1,823 views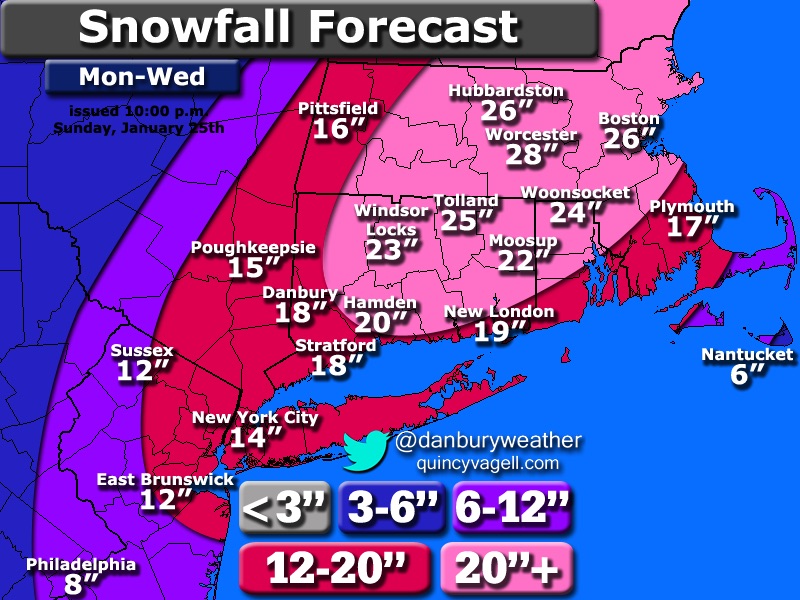 A major snow storm is projected to bring blizzard conditions to much of New England Monday night through Tuesday. When all is said and done, many areas in and around the Boston area can expect two feet of snow with locally higher amounts.
Despite the European model staying the course with greater snowfall amounts for areas around New York and New Jersey, it appears that most other data favors sharply decreasing snowfall amounts west of southern New England. As low pressure rapidly intensifies and moves toward Cape Cod and the islands, snow will become heavy with strong winds and blizzard conditions along the I-95 corridor from New York City to Boston and downeast Maine.
As low pressure nearly stalls and does a loop, similar to historic blizzards in the past, a band of intense snowfall should drop excessive to possibly historic snowfall amounts. It appears that the likely positioning of this band would be on a SSW to NNE axis between central/eastern Connecticut and interior eastern Massachusetts. This may include the Boston metropolitan area. Although mesoscale details of such a band are not 100% clear, the potential exists for some 30"+ totals where this band sets up. Snow in this area will persist through the second half of Tuesday, before finally winding down early Wednesday morning.
Here is the thinking for this storm.

The greatest bust potential lies across far western New England, New York State, New Jersey and points west. Although this forecast leans closer to the more eastern GFS/NAM/RGEM solutions, it will still be interesting to see how the 00z Euro trends. It is very rare for the Euro to cave to the other models inside of 72 hours, but it is also hard to believe that it will stay as far west with the heavy snow as previous runs have.
Another consideration is that liquid to snow ratios, especially across the interior high terrain, will be greater than 10:1. Ratios in the range of 14-18:1 across western and central Massachusetts should help offset some lower precipitation amounts with a considerable fluff factor.
8:30 a.m. Monday edit:
The models have compromised a bit overnight, but the RGEM is still rather light with snowfall amounts across western New England and points west.