I thought this deserved its own thread so that I can make modifications and so that the discussion of this doesn't get mixed up in several different threads.
I finally got around to statistically removing ENSO, TSI, and Volcano variation from the temperature series 1980-2010. I used the skierinvermontTM temperature index (Average of HadCRUT/GISS 60S-60N with UAH at the poles) which I believe to be one of the most accurate ways to estimate surface temperature. Yearly temperature anomalies were adjusted by -.105C for each 1C of ONI (3 month lag), and by the proposed -.18C for each W/m2 anomaly of TSI found in Camp and Tung 2007. The years 1991, 1992, 1993, and 1994 were adjusted by +.05, +.35 +.22 and +.1C respectively to adjust for Pinatubo. The result of removing the ENSO, TSI, and volcanic variation is a much more consistent temperature series that shows much more steady increase. Obviously not all variation can be removed because of unexplained variation and the interaction of factors, but much of it can be removed by using accepted relationships between ENSO, TSI, volcanoes and temperature which constitute the 3 strongest, most consistent, and predictable short-term effects on temperature.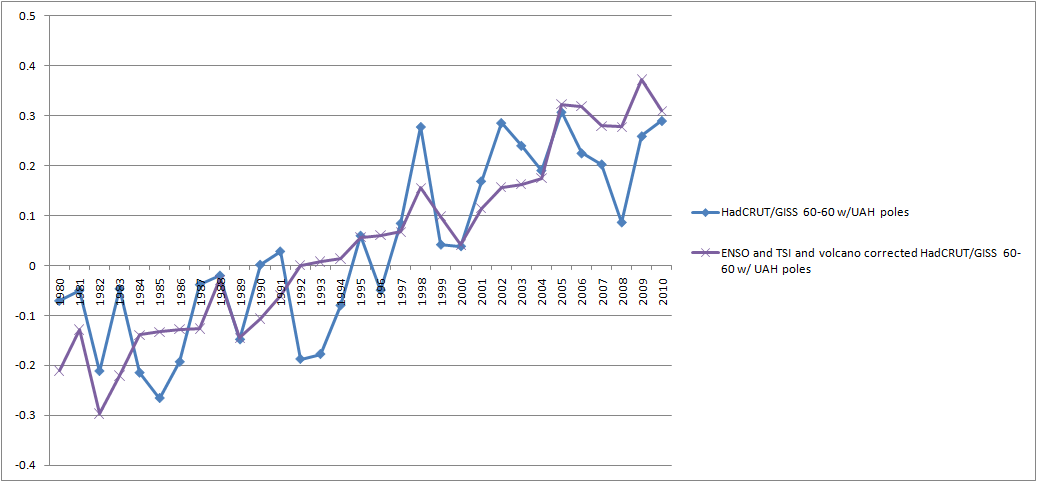 The following graph is ENSO, TSI, and Volcano adjusted (blue line) along with a 5 year smoother (red line).