Severe WX Outlook, NE, Mid-Atl.: Friday, April 19th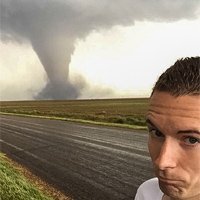 Entry posted by Quincy ·
1,630 views
A strong low pressure system is forecast to move up into the Great Lakes by Thursday and eventually into southeastern Canada late Friday into Saturday. A potent cold front associated with this storm will move towards the Appalachians by the second half of Friday. (For Wednesday and Thursday, severe thunderstorm activity is probable for the Mississippi Valley and portions of the western Ohio River Valley.
I see a marginal setup for severe storms from Central N.Y. into the middle Appalachians. Even though a strong shortwave and upper level jet is expected to move into New York state and Pennsylvania, there are several factors which will likely limit the severe threat...
With low-level moisture and clouds, daytime heating will not be maximized along the East Coast. Right now, the areas shown in green can expect gradually steepening lapse rates. However, dew-points are only expected to be in the mid-50's to around 60 north of Washington D.C., along with 2-meter temperatures in the mid-60's to lower 70's. eastern Pennsylvania and New Jersey could get well into the 70's, but with the front lagging further to the west, there really isn't much of a trigger to kick off any storms in that area. The SREF/NAM/GFS/Euro are actually fairly similar in timing and overall evolution of this storm system.
Without much heating, relatively low CAPE values are forecast. The SPC SREF does show a ribbon of slightly negative (0 to -2) Lifted Index values from central Pennsylvania southward. This indicates a marginally unstable atmosphere. As one goes further south into Virginia, the severe weather indices increase, including dew-points into the 60's. This is why that area is outlined in a "low" threat potential.
Wind shear values are a bit more supportive for severe weather, but even here, the storm system loses some of its punch as it reaches the Appalachian mountains. Effective bulk shear of 40-45kts is forecast across the region. Some strong winds aloft are expected with the front, but this area of stronger winds lags far enough back to really minimize the severe weather threat.
Overall threats...
-Damaging wind gusts could be supported anywhere in the green or yellow shadings.
-In the yellow shading, there's a very slight risk of hail and isolated tornadoes.
-In New England, gusty winds are possible with a band of rain and thunderstorms late Friday night into early Saturday, but damaging winds are not terribly likely.
As the spring season goes forward, I will be making more severe weather outlooks. Any feedback is appreciated and I am still working on the outlook/threat scale. I would like to compare forecasts to verification in the future, so some thought will be needed to address just how best to do so. Learning is an ongoing process as I learned a lot about severe weather forecasting last spring/summer and there's still a lot more to cover. Experience also helps!