Weak El Nino winter outlook
This winter outlook is the preliminary try for JWN productions, weather amateur forecasting, and writing business.  We have several indications that a big snowy winter is coming for Southern New England.  While water temperatures between 35N:75W, 35N:70W, 40N:75W, 40N:75W within this box can help determine the potential baroclinicity involved in a potential winter storm, determining how much moisture is available to the storm's potential snowfall amounts.  If the water temperatures are above normal in this location, than chances are there is a greater than normal chance at significant snowfall for the areas north and northwest of the storm's track, now if it is colder than normal the reverse impact, there is no real science yet to help determine if the Gulf Stream's impact's go beyond intensity of a winter storm and its precipitation outlook, storm track is just a chance of happening along the Gulf Stream, it is not a reason for the storms tracking the way they do, but what does is the positioning and intensity of several upper level features, like the +PNA ridge, and its location and amplitude, as well as the 50/50 -NAO low, and the Greenland Ridge of the -NAO regime, as well as positioning and potential for a colder than normal atmosphere, in a -AO polar Vortex location and amplitude of the arctic jet stream.  While there are factors we know about that impact the long duration indices of the NAO/PNA/AO, we don't know what the day to day and week to week levels of the indices will be determining the outcome of a winter storm's location, intensity, and impact.
An active Sub-tropical jet streams are notorious in El Nino ENSO patterns, therefore I expect the Gulf of Mexico to have extreme precipitation changes, along with a strong chance for severe weather from Florida to the Carolinas.  It also appears the +PNA will poke its large head onto the Western CONUS during the winter months, allowing an amplified jet stream to impact the troughing over the eastern US, leading to numerous storm chances along the East Coast, now intensity, precipitation amounts, and track will have a lot to do with the -NAO/AO pattern too, those are accurately forecasted at this time, but for now I will have to say an active Jan - Mar will have numerous blizzard potentials.  All for an above normal winter for snowfall, especially from NYC to BOS.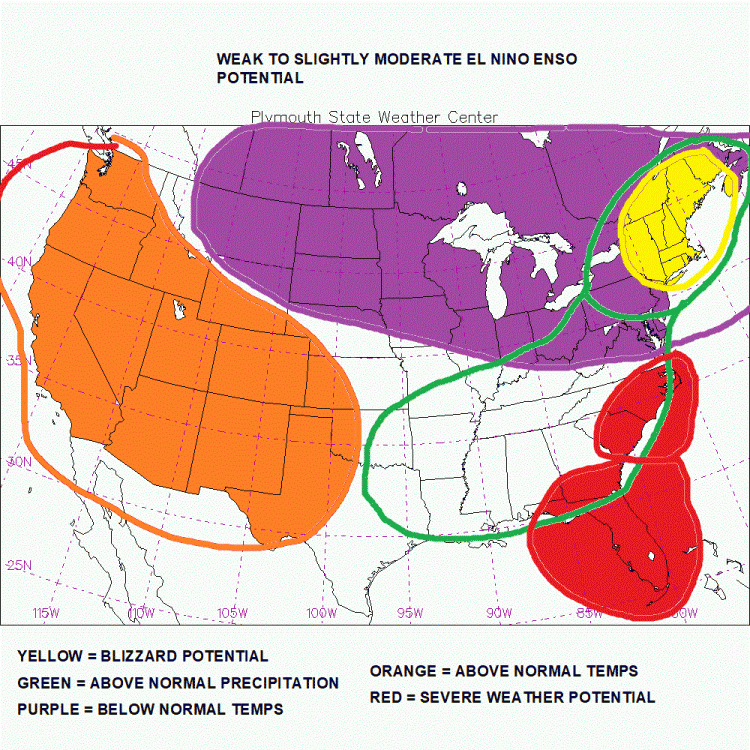 1