Closing Out April With A Bang? (severe)
---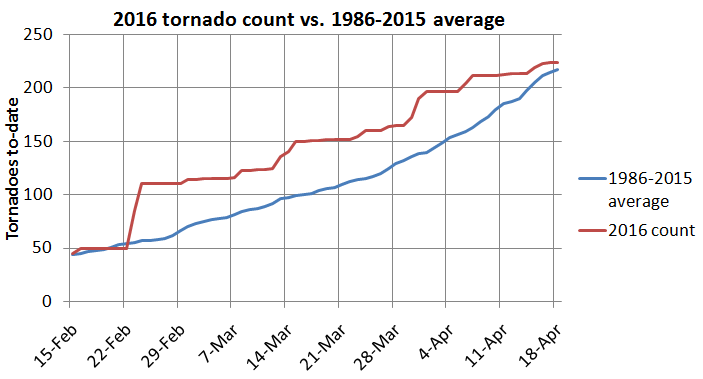 April is seen as a transition month during the severe weather season, as the frequency of tornadoes typically picks up rather quickly through the month. Despite what the calendar has to say, tornado activity has been fairly lackluster so far this month. In fact, after moving well above the average to-date tornado count in late February, the U.S. has steadily been losing ground. As it stands now, through April 18, the U.S. is near average this year for tornadoes, but with a relatively quiet rest of the week forecast, it looks like the country will fall below average for the first time since February. (The 1986-2015 climate period of 30 years is used for this average)
The month of April started with the "dreaded" trough of low pressure across the Northeast. Locally, it was cold and snowy after a winter that was relatively mild and snowless. Likewise, after an active winter season for tornadoes, severe activity has been sporadic over the past several weeks. With all of this said, a pattern change is finally on the not-to-distant horizon, with troughiness returning to the West and the welcomed return to ridging across the Southeast U.S. This pattern will broadly support a more active period of weather across the central states, including an uptick in tornado potential.
If we're keeping track, a pattern change was slated for mid-April a long time ago, back as early as mid-March. That pattern change has been delayed somewhat as pesky troughing across southeastern Canada hangs on and the models display a glaring ridge (positive height) bias. This past week saw a shuffling of the pattern, but an omega block led to a messy setup and only a few isolated tornado reports in parts of the High Plains. The models often have issues handling larger scale pattern changes, but now that such a change is effectively inside of a week, confidence is increasing and the models are getting into good agreement.
By this weekend, the first in a series of troughs is likely to swing across the western half of the country with some modest ridging to the east. Watch for lee-side cyclogenesis in the central High Plains vicinity between Sunday and Monday. While this is encouraging, the setup is not without flaws. This first trough ejection and evolution of the system is kind of junky (for the lack of a better word) in terms of tornado potential. There's some instability as early as Saturday progged in the north-central states, but shear is forecast to be lackluster. The similar is the case for Sunday and Monday from the Plains into the Upper Midwest – generally marginal overlays between modest shear and favorable instability as a frontal system slides east. This is subject to change, but the trends are not particularly impressive. It's the middle and latter portion of next week that really bears watching, figuring that this first system may at least get the gears turning for building a warm, moist air-mass over the Plains.

With the Euro and GFS in good agreement (including the ensembles), it's fair to use the GEFS analogs as a baseline for what type of setup we could be looking at, somewhere in the Tuesday to Saturday (April 26-30th) time-frame. Even before looking at specific dates, the string of digging troughs in the West with increasing moisture return in the central states sets the stage for a classic period of near-peak/peak tornado season activity. This does not necessarily mean we will have a massive number of tornadoes or that there will be a high-end setup, but at the very least, it is probable that tornado activity will markedly pick up as the week wears on. Now speaking of those analogs, there are some big dates and periods that show up, in order from ranking:
5/10/1953: A couple of days removed from the day 6-10 analog, but this date featured a localized outbreak of strong tornadoes in the Upper Midwest.

4/25 – 4/29/1994: 124 tornadoes in five days, including an outbreak from the 25th into the 26th.

5/12 – 5/13/1980: Not an outbreak, but strong tornadoes in Missouri followed by a pair of EF-3 tornadoes in Michigan the next day.

4/17/1995: AR/OK/TX outbreak with 21 tornadoes.

4/26/1991: Plains outbreak with 53 tornadoes, including the Andover, KS EF-5 tornado.


5/2/1994: The only analog in this bunch that didn't have notable tornado activity.



5/7 – 5/11/2008: 122 tornadoes in five days. (2008 has been an analog on the radar for a while, also one of the busiest spring seasons of this century)

5/8/1979: 21 tornadoes, though mostly in Florida, two were reported in Iowa, including an EF-3.

4/30/1978: 15 tornadoes in the southern Plains, including 6 strong tornadoes and a mile-wide EF-4 on the northwest side of Oklahoma City.

5/4 – 5/6/1960: 71 tornadoes in three days from the Plains into the Midwest, including a long-track EF-5 tornado in eastern Oklahoma.

If the pattern unfolds closely to what is modeled, it would appear that April certainly has the potential to go out with a bang.

Through some of the research I've done with a May tornado outlook for USTornadoes.com, I noticed that the analogs have things in common. Without giving away too many of the details, one of the common themes in the analog was for the potential for violent tornado events in May. It could be the case that we're just getting warmed up next week…