Upcoming Severe Threats: 5/1
---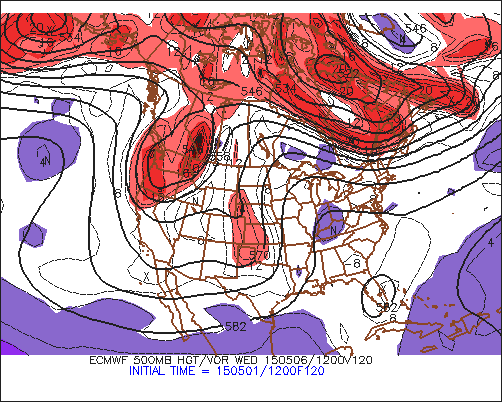 The final few days of April finished on the quiet side in terms of severe and that continued into May 1st. With that said, a larger-scale pattern change is likely to be accompanied by multiple threats of severe weather in the coming days.
Saturday 5/2: Not seeing anything major here. Although we should finally see some modest instability up into the central Plains, dew-points are only expected to rise into the upper 40s to lower 50s across the area with some weak forcing during the evening. One plus is that wind shear will be supportive of supercell structures, assuming other variables line up.
Verdict: A few, rogue severe thunderstorms are possible from late afternoon into the evening, but even those may only be marginally severe. The focus is on the central Plains

Sunday 5/3: The setup looks slightly better than Saturday, but that does not say much. A larger area can expect modest to moderate instability, but the drawback here is near-neutral height tendencies. Upper level progs show little focused area of forcing. The only thing that looks somewhat interesting is a surface low forming near the Colorado/Kansas border. This could narrow the focus on some isolated severe thunderstorms to the Texas and Oklahoma panhandles, but even here the prospects are not terribly exciting. If there is enough of a trigger, a few isolated strong to severe storms could also initiate up into the central Plains and as far east as the upper Midwest. Wind shear is questionable throughout the regions outlined.
Verdict: Isolated severe thunderstorms are possible anywhere from the southern High Plains into the central Plains and upper Midwest. If there is one area to focus in on, it might be just ahead of a surface low, in the vicinity of the Texas/Oklahoma panhandles. While the ceiling may be somewhat higher than Saturday, storm coverage and intensity is not expected to be particularly impressive.

Monday 5/4: This looks like the beginning of what may be an extended period of active weather. A trough should begin digging into the West Coast, with some modest height falls reaching the High Plains. Moisture will likely be a positive and negative thing here. Although dew-points should reach the upper 50s to lower 60s at a minimum, cloud-cover, convective debris and increasing precipitable water values throw a wrench in the severe storm potential. Likewise, wind shear is not expected to be terribly impressive either. What may end up ultimately happening is that a few pockets of greater instability could lead to a few supercells reaching severe limits.
Verdict: Mixed signals somewhat hamper the severe potential, but it would appear probable that at least a few isolated to widely scattered severe thunderstorms could develop from the Texas/Oklahoma panhandles into Kansas.

Tuesday 5/5 through Thursday 5/7: The Euro and GFS are actually in very good agreement overall through the period with the general pattern. The West Coast trough continues to dig and a piece of energy swings through from the High Plains on Tuesday into the central Plains on Wednesday. Tuesday looks muddled at best with meager instability and limited kinematic support. Wednesday may offer the best potential, if things line up. Shortwave energy should be pivoting into the central Plains, along with a surface low, but that low looks awfully elongated. The instability setup may suffer too, from limited instability and on-going clouds/sub-severe storms. With that said, a low level-jet should be cranking with both the Euro and GFS suggesting at least 40-50+ knot winds at 850mb. Thursday becomes a bit more unclear, despite continued model agreement. Storms may be ongoing Thursday morning, based on current trends, and the models seem, perhaps, a bit overdone with instability in the warm sector. Even so, wind shear looks to slacken off, which could be another factor to limit the severe threat. Timing is yet another concern, as a faster evolution could really hinder the Thursday risk, whereas a slower scenario might be better.
Verdict: Some isolated to scattered severe thunderstorm potential each day, but details are still unclear. Wednesday may offer the greatest potential with Thursday being a wild card.

The worst case is that this upcoming week, there are just a few severe thunderstorms, but enough of a threat to track for a few days in a row. The best case is that things come together for one to possibly two decent chase days.