Severe WX Outlook Through Friday Morning: NE/mid-Atl.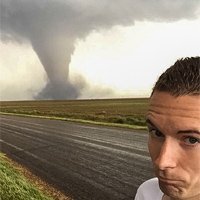 Entry posted by Quincy ·
2,808 views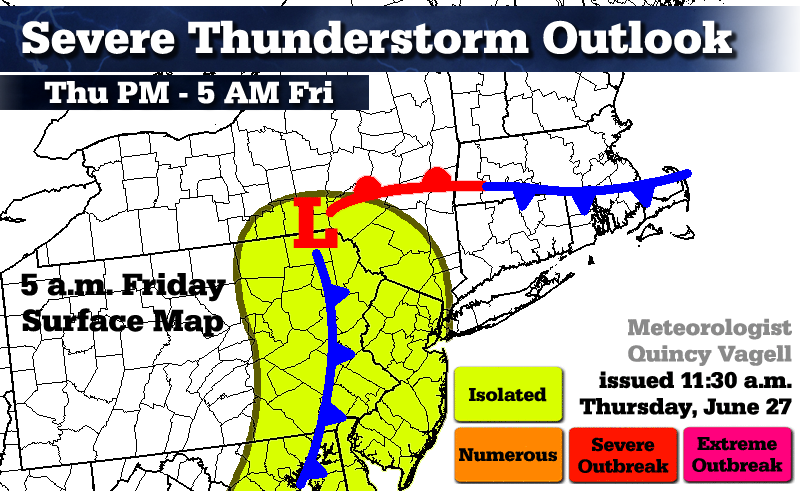 Low pressure develops across Pennsylvania later today and I am expecting at least some isolated severe thunderstorms across the region.
Isolated thunderstorm threat...
Satellite imagery shows mostly clear skies with just some high clouds across eastern Pennsylvania and New Jersey. Daytime heating is expected to push surface temperatures well into the 80's along with dew-points that are already in the upper 60's to lower 70's. In the warm sector well ahead of a cold front (east of the Appalachians in the mid-Atlantic states), a few thunderstorm cells or clusters could develop and become marginally severe this afternoon. As the cold front approaches, a squall line is depicted on the higher resolution models. This may cause isolated wind damage, especially across eastern Pennsylvania and western New Jersey. NAM forecast MLCAPE values are modest at best, near 1000 J/kg in spots. Some hail is possible in the stronger storms, but large hail is not a major threat. Due to the relatively late timing, the severe threat is a bit more unclear across portions of New York State. Even with a loss of daytime heating, proximity to deepening low pressure may cause strong to isolated severe thunderstorms to continue into the overnight period and through the pre-dawn hours of Friday. Although the threat is relatively low due to a lack of directional wind shear, the northern portion of this isolated threat zone will see increased shear after sunset as low pressure amplifies. The late timing does not climatologically favor nighttime tornadic development, but a quick spin-up could be possible, mainly in northeastern Pennsylvania, northwestern New Jersey and portions of southern New York State.

In Connecticut...
Although skies are breaking for sunshine across southwest portions of the state, there is a lack of a trigger mechanism to fire off any storms. MLCAPE values may increase to near 500 J/kg in parts of the state. SBCAPE looks more impressive, but with poor mid-level lapse rates, severe thunderstorm activity is not anticipated. Some pop-up thunderstorms are possible late in the afternoon and some embedded thunderstorms are expected overnight, especially west of the Connecticut River.