Severe WX Outlook, NE, Mid-Atl.: Saturday, May 11th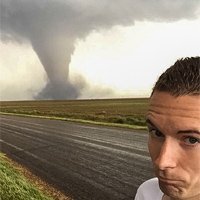 Entry posted by Quincy ·
1,122 views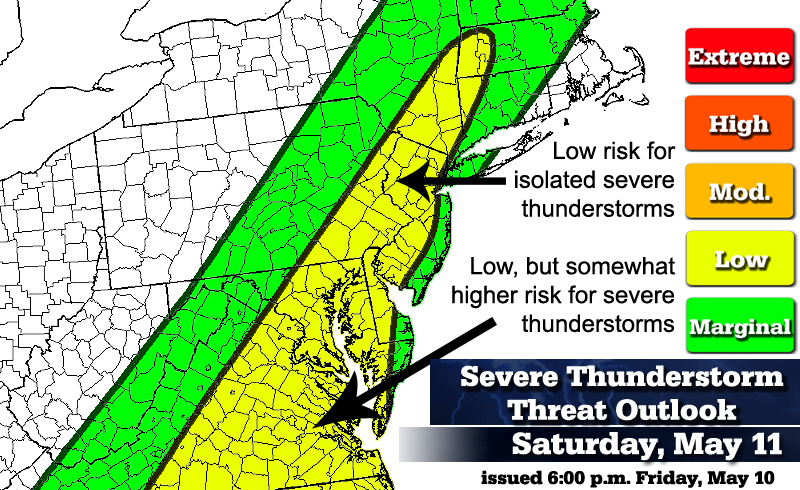 As a cold front moves towards the East Coast on Saturday, some thunderstorm development is possible during the afternoon and early evening hours.
Low threat (Conditions are somewhat favorable for severe thunderstorms)
Mid-Atlantic region (east of Appalachians), lower Hudson Valley and SW New England.
Conditions will destabilize in a warm, somewhat moist air-mass before an approaching cold front swings from west to east through the area. The biggest question mark is how much daytime heating will take place. Across Virginia, there will likely be more heating and with higher dew-points here as well, in the mid-60's, some thunderstorm development is likely. Some of these storms could reach severe limits.
Further north, across eastern Pennsylvania, interior New Jersey, southeastern New York, northwestern Connecticut and the Berkshires, the threat of severe thunderstorm activity relies heavily upon daytime heating. The NAM continues to show some scattered showers and mid-level moisture limiting the destabilization process. With that said, the SREF/NAM/GFS still show a narrow finger of somewhat unstable air in this region. CAPE values between 250-500 J/kg, LI values around -2 and bulk shear around 30kt could result in a few thunderstorms reaching severe limits. Dew-points are progged to reach the lower 60's by the NAM. The 18z NAM simulated radar shows a squall line developing from Baltimore to Philadelphia to Poughkeepsie. However, this line is relatively short-lived as it collapses upon reaching the coastal plain and western Connecticut.
It should be noted that helicity values increase towards the northeast, especially in New England. This may work to offset the slightly less unstable atmosphere.
Bottom line, some thunderstorms may produce damaging winds from the mid-Atlantic region into southwestern New England. Some hail is possible here, but there's a stronger potential for severe hail further south.
The tornado risk is relatively low, although Significant Tornado Parameter (STP) values indicate that a brief tornado or two could form anywhere in the yellow shading. Local topography across the Appalachians could aid in some rotation with any cells. When running the numbers, the tornado parameters are a bit below the mean tornado environments for historic tornadoes in the region, but are higher than what verified on Thursday with the brief EF-0 tornado in eastern Massachusetts.
A few renegade thunderstorm cells could fire ahead of a cold front Saturday afternoon, especially across Virginia, where there may be a few supercells. A squall line along the cold front is more likely, advancing through eastern Pennsylvania early in the afternoon and towards the NYC metropolitan area and the coastal plain by mid to late afternoon. Instability will be key in the formation of and ability of this line to maintain itself.
Marginal threat (Conditions are marginally favorable for severe thunderstorms)
Mid and upper Appalachians and portions of southern New England.
Shower and thunderstorm activity is likely across the entire area, but less daytime heating will limit the severe weather threat. As one moves eastward, especially towards the coastal plain of New England, the threat decreases significantly.
Threat definitions...(Severe thunderstorm = wind gusts to 58 MPH and/or >1" hail)
Marginal: Conditions are marginally favorable for severe thunderstorms.
Low: Conditions are somewhat favorable for severe thunderstorms.
Moderate: Conditions are moderately favorable for severe thunderstorms.
High: Conditions are very favorable for severe thunderstorms.
Extreme: Conditions are extremely favorable and dangerous thunderstorms are likely.
*Disclaimer* The intent here is somewhat different than SPC severe weather outlooks. The green, yellow, etc. shadings do not directly correlate between SPC and my own outlooks. I'm still getting a feel for these outlooks, but I imagine that in more impressive severe setups, I will use red and orange colors a bit more generously than SPC might. Also, green colors on my maps indicate a marginal severe weather threat, while on SPC it corresponds to a general thunderstorm (not necessarily severe) threat.