Recap: Tornado in New York, April 19th, 2013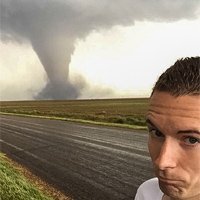 Entry posted by Quincy ·
3,976 views
The National Weather Service (NWS) confirmed that an EF-1 tornado touched down in New York state Friday evening, shortly before 8 p.m.
A strong cold front moved across Pennsylvania and New York state late Friday evening. At the same time, a marginally unstable air-mass was in place closer to the surface. With moderate to strong wind shear in place and significant storm relative helicity in place, the stage was set for damaging winds and even a marginal tornado threat.
As a result, a Tornado Watch for a large portion of Pennsylvania and New York state. A tornado touched down near Bainbridge, N.Y. in Chenango County and stayed on the ground for 3.2 miles. The tornado was a strong EF-1 with maximum sustained winds of 110 MPH.
Looking back at historical tornado environments in the same general area, the wind shear and helicity values in place on Friday were actually more "severe" than the climatological mean for past tornadoes. The only thing that was lacking was instability, as there was very little in place. Despite this fact, strong, twisting and turning winds aloft combined with an approaching squall line ahead of a cold front resulted in the tornado.
PUBLIC INFORMATION STATEMENT...UPDATED
NATIONAL WEATHER SERVICE BINGHAMTON, NY
954 AM EDT MON APR 22 2013
...TORNADO CONFIRMED FROM 4 SSE BAINBRIDGE IN CHENANGO COUNTY TO 3 S SIDNEY IN DELAWARE COUNTY NEW YORK...
UPDATED DATA ON LAT/LON POINTS AND WIDTH.
LOCATION...
FROM 4 SSE BAINBRIDGE IN CHENANGO COUNTY TO 3 S SIDNEY IN DELAWARE COUNTY NEW YORK
DATE...APRIL 19 2013
ESTIMATED TIME...753 PM TO 758 PM EDT
MAXIMUM EF-SCALE RATING...EF1
ESTIMATED MAXIMUM WIND SPEED...110 MPH
MAXIMUM PATH WIDTH...200 YARDS
YARDS PATH LENGTH...3.2 MILES
BEGINNING LAT/LON...42.2481N / 75.4516W
ENDING LAT/LON...42.2674N / 75.3939W
* FATALITIES...0
* INJURIES...0
* THE INFORMATION IN THIS STATEMENT IS PRELIMINARY AND SUBJECT TO CHANGE PENDING FINAL REVIEW OF THE EVENT(S) AND PUBLICATION IN NWS STORM DATA.
..SUMMARY
THE NATIONAL WEATHER SERVICE IN BINGHAMTON, NY HAS CONFIRMED THAT A TORNADO TOUCHED DOWN ABOUT 4 MILES SSE OF BAINBRIDGE IN CHENANGO COUNTY...TRACKED NORTHEAST ABOUT 3.2 MILES...AND THEN ENDED ABOUT 3 MILES SOUTH OF SIDNEY IN DELAWARE COUNTY NEW YORK FROM 753 PM EDT TO 758 PM EDT ON APRIL 19 2013.
THE TORNADO TOUCHED DOWN BETWEEN INTERSTATE 88 AND HIGHWAY 206...ON EAST AFTON ROAD...WHERE 2 POWER POLES WERE SNAPPED AND A CAR WAS DESTROYED BY A LARGE TREE BRANCH. ANOTHER VEHICLE WAS ALSO DAMAGED. SEVERAL TREES WERE SNAPPED OR UPROOTED. A BARN HAD MINOR ROOF DAMAGE. THE TORNADO CONTINUED NORTHEAST AND CROSSED HIGHWAY 206...WHERE A FARM EQUIPMENT BUILDING AND A MOBILE HOME WERE HEAVILY DAMAGED...AND A STORAGE TRAILER WAS DESTROYED. OTHER NEARBY HOMES HAD MINOR DAMAGE...AND A CARPORT WAS LIFTED AND MOVED 75 FEETFARTHER DOWN ITS PATH...THE TORNADO INTENSIFIED TO A HIGH END EF1 STRENGTH WHILE TRAVELING IN THE VICINITY OF HOUCK DRIVE. IN THIS AREA IT UPROOTED OR SNAPPED MANY 1 TO 2 FOOT DIAMETER TREES ALONG ITS PATH...BOTH HARDWOODS /MAPLES/ AND SOFTWOODS /PINES/...WITH THE LARGEST MORE THAN 3 FEET WIDE. IT ALSO CAUSED STRUCTURAL DAMAGE TO A SINGLE FAMILY RESIDENCE AND GARAGE...WHILE TRANSPORTING A SIGNIFICANT AMOUNT OF DEBRIS A HUNDRED YARDS OR MORE. THE TORNADO THEN CROSSED INTO DELAWARE COUNTY...DOWNING SEVERAL MORE TREES ON SOME PROPERTIES ALONG HIGHWAY 8 BEFORE DISSIPATING.
Here's an SPC archived radar image from 00z, just minutes after the tornado touched down. A noticeable kink can be seen along the squall line near the location of the tornado, along with the approximate track below it:


Here are some more storm reports from Friday: