A Casual Look at the Rest of March
---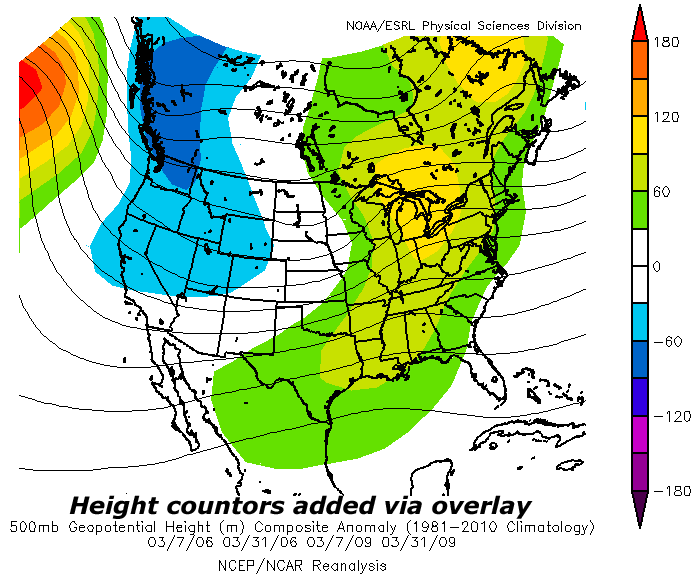 A pattern change is soon underway that will leave much of the U.S., especially the eastern two thirds, feeling spring fever. Unlike patterns in recent years, a prevalent ridge of high pressure off or near the East Coast ("Southeast ridge") will maintain generally at or above average temperatures for the region. The only exception may be parts of the Northeast, where some backdoor cold fronts could keep temperatures cooler. To the west, troughing across the West Coast should help keep a much-needed stormy pattern in place for California and surrounding areas. In the middle is where things can get interesting in terms of severe thunderstorm potential with the possibility for above average tornado activity.
After taking a close look at past mid to late March patterns over the last 20 years, two periods can be identified as close analogs to what is forecast to unfold, March in 2006 and 2009. The short and medium range guidance is in agreement that the first springlike setup over the Plains gets going on Sunday and lasts into early next week. Beyond that, the longer range ensembles agree that the basic pattern, one with ridging in the Southeast and troughing over the western third of the country, continues. The Euro weeklies show this right through the end of March, while the 16-day GEFS has this setup solidly through the third week of March.

Without spending too much time on details, both 2006 and 2009 saw a fair amount of tornado activity to the north and west of a "typical" March, where activity is favored over Dixie (Deep South/Gulf Coast). There was a significant early season tornado outbreak from March 9-13, 2006 across the Middle Mississippi Valley and Ozarks, particularly over Missouri. In 2009, activity was not nearly as concentrated, but there were notable tornado events across the Plains and Midwest. Essentially, both years had a relatively active March, but the biggest story was how far north and northwest tornado events took place.
Both 2006 and 2009 featured ridging across the Southeast and warmer than average temperatures over much of the central and eastern U.S. This is important for the rest of this month. Aside from the warmth, moisture (think instability) is able to travel farther north, which is often a key limiting factor for severe events in the Plains and Midwest in late winter and often early spring. Assuming the pattern that shows up early next week is repeated through the month, we may have a very active March on our hands.
Summary
The rest of March may feature persistent Southeast riding and western troughing

Above average precipitation is expected in California

Warmth is likely from the southern Plains to the Tennessee Valley/Southeast/Mid-Atlantic

Above average severe activity is anticipated, overall, nationally

The threat exists for multiple tornado events over the southern/central Plains and parts of the Midwest

It is not clear at this point if we will have a significant March outbreak like 2006. Also, there are still some limiting factors for Sunday-Tuesday coming up that may preclude a bigger event. Nonetheless, severe weather, including at least a few tornadoes are anticipated into early this upcoming week. Through mid and late March, expect at least a couple of more severe events, continuing the pace for near to above average tornado activity in the U.S.