Tornado Outbreak Expected Tuesday, Feb. 2
---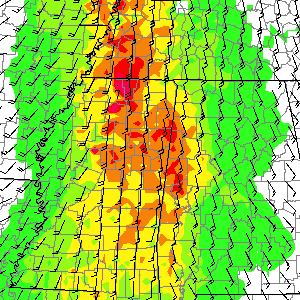 A tornado outbreak appears likely on Tuesday into Tuesday night across portions of Alabama, Mississippi and Tennessee. Over a broad area from the lower Mississippi Valley to the Tennessee and lower Ohio valleys, scattered severe thunderstorms are expected to develop Tuesday afternoon, continuing into Tuesday evening. The threat will shift east overnight, gradually lessening, especially after midnight. The setup looks favorable for several tornadoes, including at least one or two strong tornadoes.
Overview: Discrete to semi-discrete thunderstorms are anticipated to develop over central to northern Mississippi and western Alabama as early as midday Tuesday. The severe threat quickly ramps up over Mississippi by early afternoon, although it not be until mid-afternoon that the earliest for a severe threat over western Alabama. (Early convection may be elevated) Other storms are likely to fire into western Tennessee, while a new line of thunderstorms initiates near the Mississippi River during the afternoon. Basically, you have storms right ahead of a cold front (the western line of storms) and warm sector supercells. The supercells in the warm sector have the greatest risk at producing strong, long-tracking tornadoes. I do not see this as a high-end or historic outbreak, but my best estimate at this point is for 8 to 12 tornadoes with at least one or two strong (EF-2+) tornadoes. The other point to make is that the tornado threat will continue after dark across northeastern Mississippi, northwestern Alabama and middle Tennessee. As storms merge and are eventually overtaken by a squall line, the tornado threat should lessen after midnight.
The greatest risk for tornadoes is expected to extend from central to northern Mississippi into western and northwestern Alabama, western to middle Tennessee and western Kentucky. Strong tornadoes are most likely to form across northeastern Mississippi and northwestern Alabama into west-central Tennessee. A couple of brief tornadoes cannot be ruled out to the east or even north of this purple area, but the tornado threat is much lower in those locations.

The models showing greater instability (NAM, SREF, RGEM) are verifying quite well. Given dew-points already into the mid-60s in southwestern Mississippi by 11 p.m. CST Monday and dew-points around 70 in parts of Louisiana, moisture return is going to plan or slightly greater than prior forecasts. The biggest variable affecting the extent of any outbreak tomorrow is instability. It looks like much of northern Mississippi and perhaps western Tennessee will see SBCAPE values of 1000-1500 J/kg by early afternoon. This instability, when coupled with favorable wind shear, would absolutely favor tornadic supercells. The HRRR is trending even greater with instability, but the progs of 1500-2000 J/kg by midday may be a bit overdone. Still, it should be noted that 1000 J/kg is about the average amount of CAPE for cold season tornadoes in Dixie, especially with the magnitude of shear that is expected to be observed later Tuesday.
The point is to be prepared for severe weather, including tornadoes, across the areas mentioned above, anytime from Tuesday afternoon onward. There may be some weak shower activity in the morning, but that will most likely not be severe. Trends with any early showers will need to be monitored, as convective/cloud debris could have an affect on destabilization. later in the day.