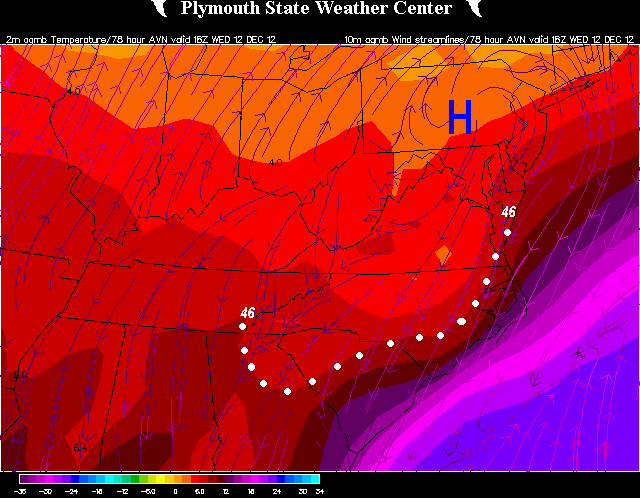 Much of Georgia and the Carolinas stand a good shot at some much needed rain mid week. The first front, like many others this Fall, will basically fade out, as dynamics pull north, so the best lift and rain amounts again will be centered on the Tennessee Valley and Gulf States side.
But immediately this front will stall out, and create some southwest flow aloft. In Winter, southwest flow can be a sneaky thing, causing a quick weather event (sometimes snow or ice) in what was just days before forecast to be only partly cloudy. The GFS showed this a week ago, then it was come and go, now last nights ECMWF also showed it.

Here it is on Wednesday as the s/w coming out of the Lower Mississippi Valley takes on a neutral tilt. Some times, these flat waves can be great precip producers (but also, sometimes convection in the Fl. panhandle robs areas north). Notice the confluent flow in the Northeast, providing the flow to stabilize a High Pressure in Pennsylvania and hold it in place as cool rains fall in the Deep South, from eastern Alabama northeast ward through the Carolinas to the southeast Virginia Coast.

[attachment=80074:GFSneutraltilt78.gif]

[attachment=80076:ECMWF96.gif]

The GFS produces a nice swath of .50" to .75" amounts from southern Alabama, FL panhandle through central GA and into the central and eastern Carolinas during the day Wednesday and Wed. Night. Further west, there may be just enough cold air at the 850 level for some snow or wet snow/mix type of precip around the northern Mountains of NC, but mostly above 3000 feet. The airmass doesn't look quite cold enough for lower elevations than this, and right now the models don't bring much moisture that far west, but it's something to watch , since southern stream systems like this are notoriously sneaky, and with no big blocking high to the north, this southern system could amp up just a little more than shown, but it's only worth watching. I'm not expecting a big snow event for the mountains from this, but the rain would be the first significant rain this Fall for parts of GA, SC, NC.
GFS qpf from second wave:

[attachment=80077:GFSsecondwaveprecip.gif]



Damming will also be rather weak, but once again after several CAD events this fall, it fits the pattern of how things have gone a few times this season, but this one has much more moisture than the last few. A rather benign 1025mb high will sit in PA under the confluence there, and wedge down northeast winds, [color=#0000ff]holding surface temps down into the 40s during the afternoon even into parts of GA and SC and NC[/color]. The cold damming is actually classic and strong on this event, but the cold air is just not very deep, and the high pressure not that strong. If the airmass were colder following the front, and if the high were probably stronger, we'd be seeing the first Wintry mess in northeast GA through the Piedmont of Carolinas, but temps just aren't low enough.

[attachment=80081:GFSweddamming.gif]

After this system, the high slides offshore and we resume southwest flow, and warming temps as the next system digs into the Southwest states, so temperatures will once again go above normals starting Friday and through next weekend. The good news is more rain will be coming, so we'll take the good with the bad, and I think the chances of rain are going up with so many systems slated to move in from the Pacific and some will be taking a suppressed type of track with Gulf Taps.